Hilo isn't exactly what one typically pictures of Hawaii – white sand beaches, luxury hotels, blue sky. Instead, it's truly tropical with rain, clearing, and more rain – ten feet a year on average. BUT, it has food, a foodie's idea of heaven along with parks hosting enormous banyan trees and bamboo. On the Island of Hawaii (known as The Big Island) it's a world away from the condos and golf courses that dot the dry, Kona Coast, side.
As soon as we crossed the pass between Mauna Kea and Mauna Loa volcanoes it began to rain. And rain. Buckets of rain because we'd managed to pick a date to travel when a severe tropical storm engulfed the state with the area around Hilo getting about four feet a day.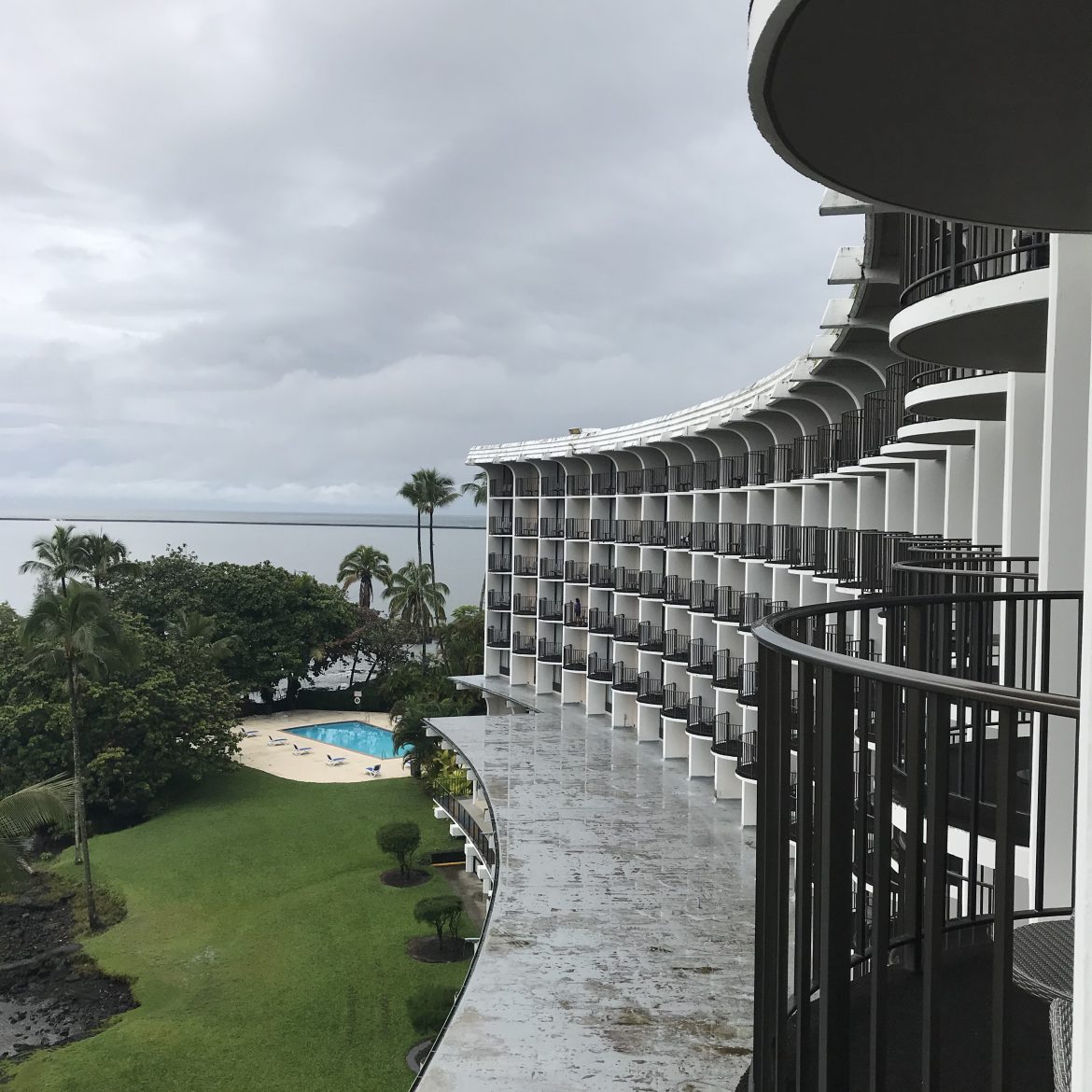 Our hotel with balcony over the water presented a dismal sight, but we weren't there for suntan. We were there to look at the old buildings and eat.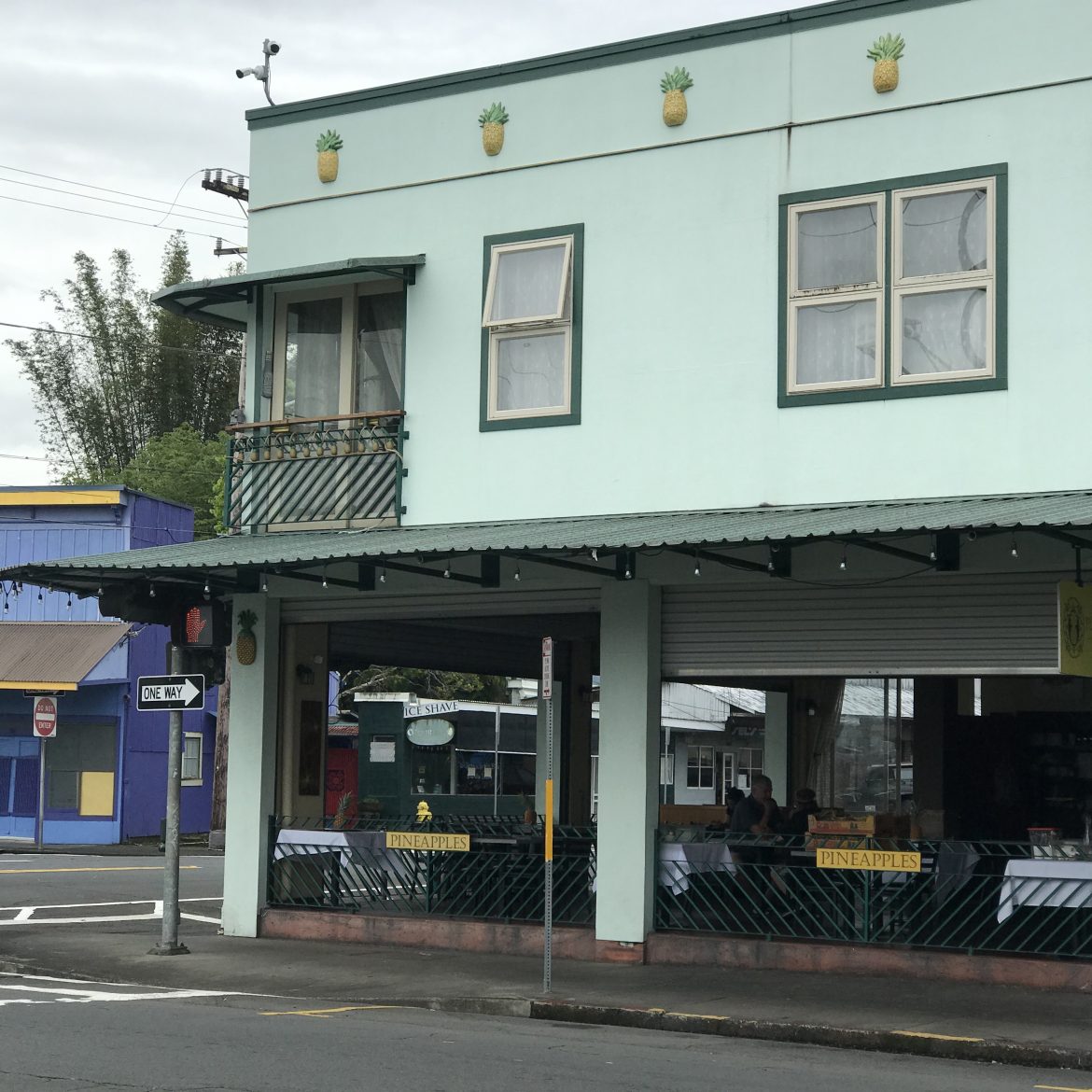 First stop on Saturday morning was the famous farmer's market. Because of Covid it wasn't what it would normally be with a hundred booths but it was still interesting with flowers, veggies and fruit. One vendor had his homemade banana bread which was perfect for breakfast – sweet and moist made from real bananas, grown in the vendor's garden not a commercial operation in another country.
The KTA grocery store where we stopped to get umbrellas and survey the myriad food offerings coming from every corner of the south and east Pacific Rim was a revelation: Spam, which has become part of the culture of Hawaii and other south sea islands, dozens of varieties of noodles, sauces, dried bonito tuna flakes, pickled vegetables, fruit, and spices from Pacific Rim countries. One spice was especially intriguing: Li Hung Mui which is made from dried plum, salt, and licorice. Hawaiians love it on everything from popcorn to pineapple.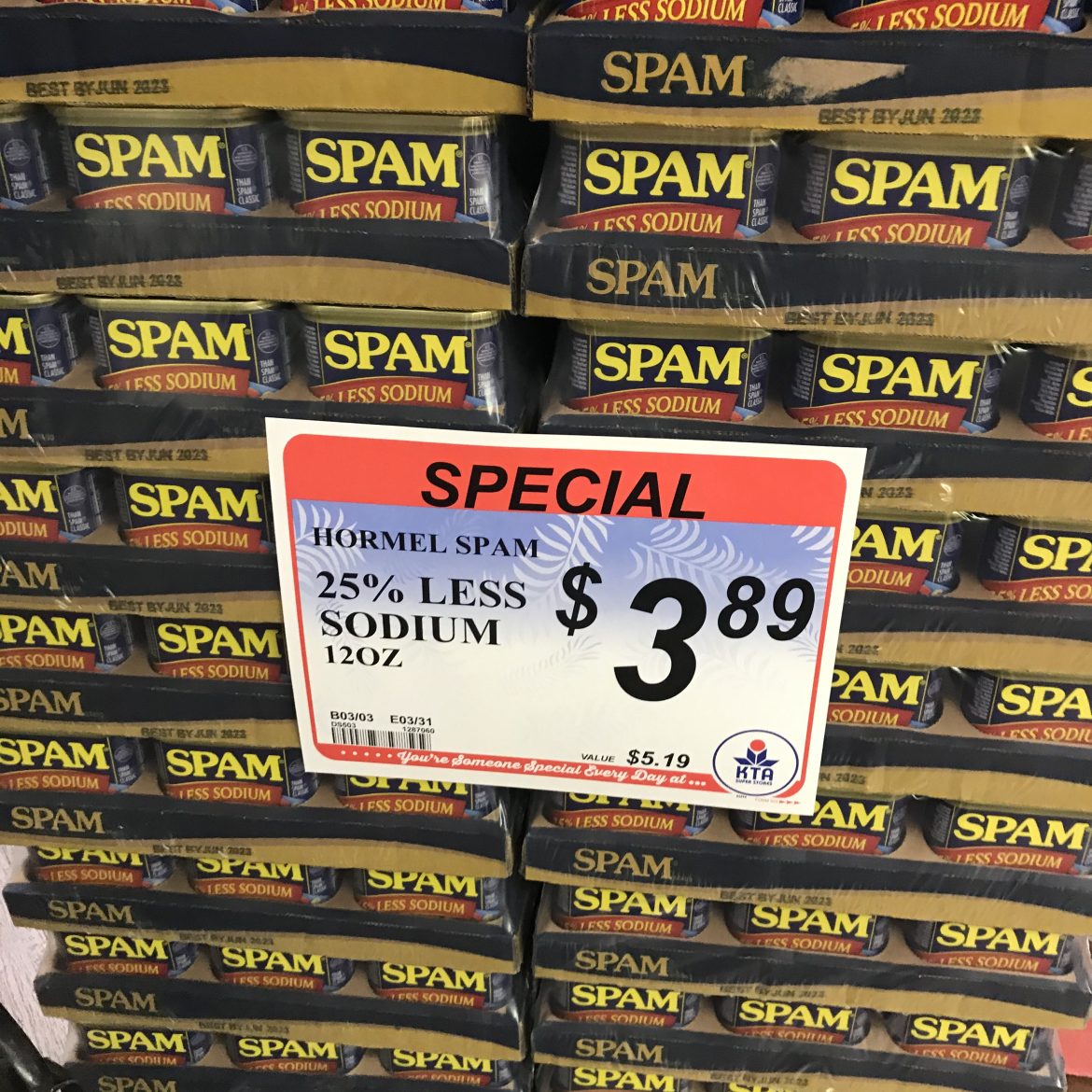 A nearby stand introduced us to another Hawaiian specialty: shave ice – which is tiny bits of ice topped with luscious chocolate, whipped cream, or fruit.
There are plenty of eating spots in the town but the Hilo Bay Café became our favorite dine-out spot. Although they have mainland standards like fried chicken, I had sushi rolls with tobiko – delicate flying fish roe – in honor of my favorite fish that I've so often watched leap across blue tropical waters. For those who like a typical a Hawaiian dish – poke – there was one made with spicy raw ahi tuna. On another meal I enjoyed crab cakes and a fresh catch of the day – the fishing dock was close by.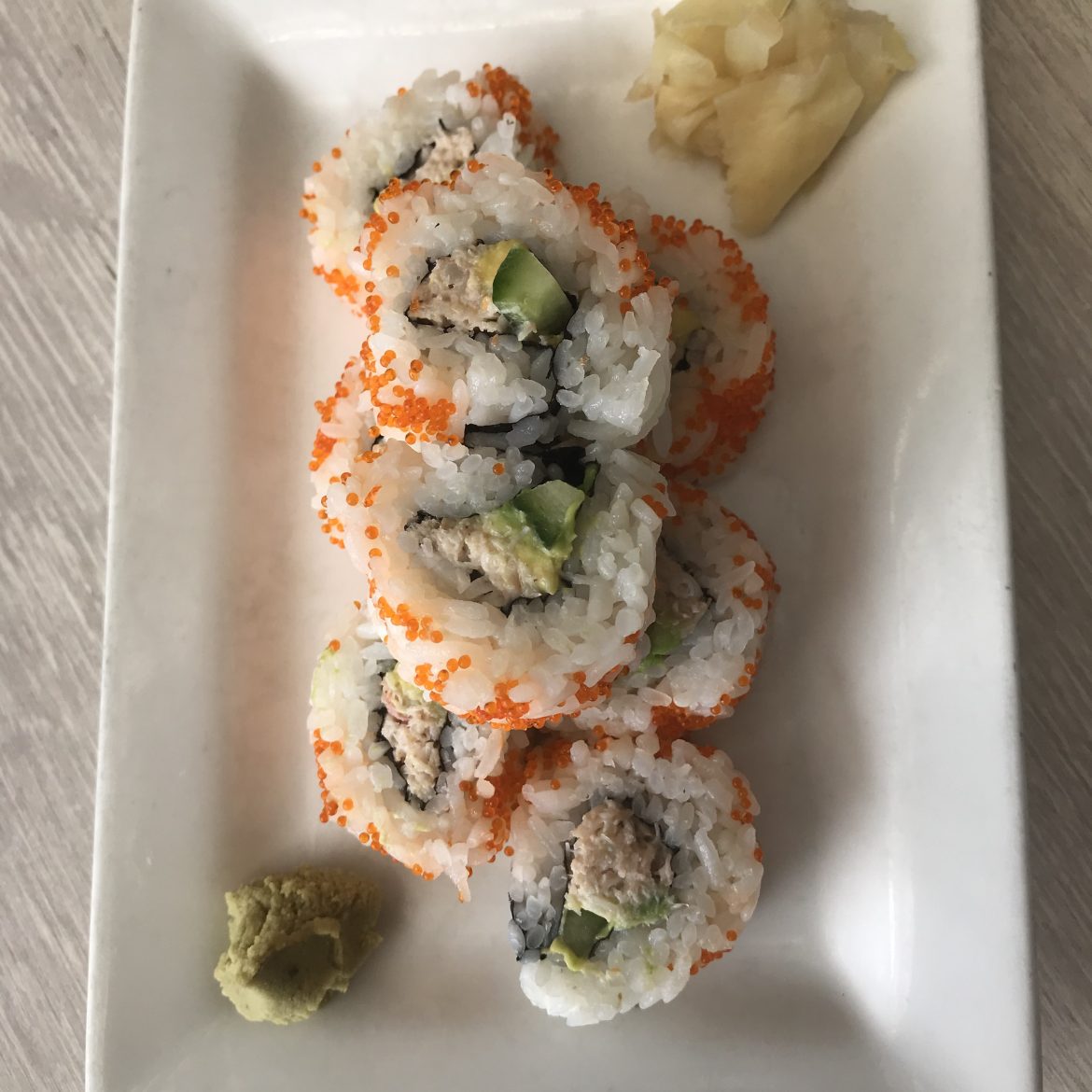 Needing to satisfy our sweet tooths, we ordered from the famous Two Ladies Kitchen, a tiny mom and pop shop in an old building but so popular people line up around the block to pick up their ordered of Japanese treats. We chose Fresh Strawberry Mochi, their most famous sweet. It's made with a short grain glutinous rice pounded into a stretchy paste and in this case containing a layer of sweet bean paste with a perfect strawberry nestled inside. So rich two practically made a meal.
Small specialty farms are thriving on the island after the big sugar and pineapple plantations moved elsewhere. Many offer farm tours: coffee, vanilla, avocados, macadamia nuts, and tea. And, of course, specialty shops like Mr. Ed's Tropical Preserves in a tiny town north of Hilo offer other temptations. If you have a hankering for Passion-Chocolate or Ginger-Papaya Jam or Kumquat Marmalade, or one of the dozens of others, this is your place.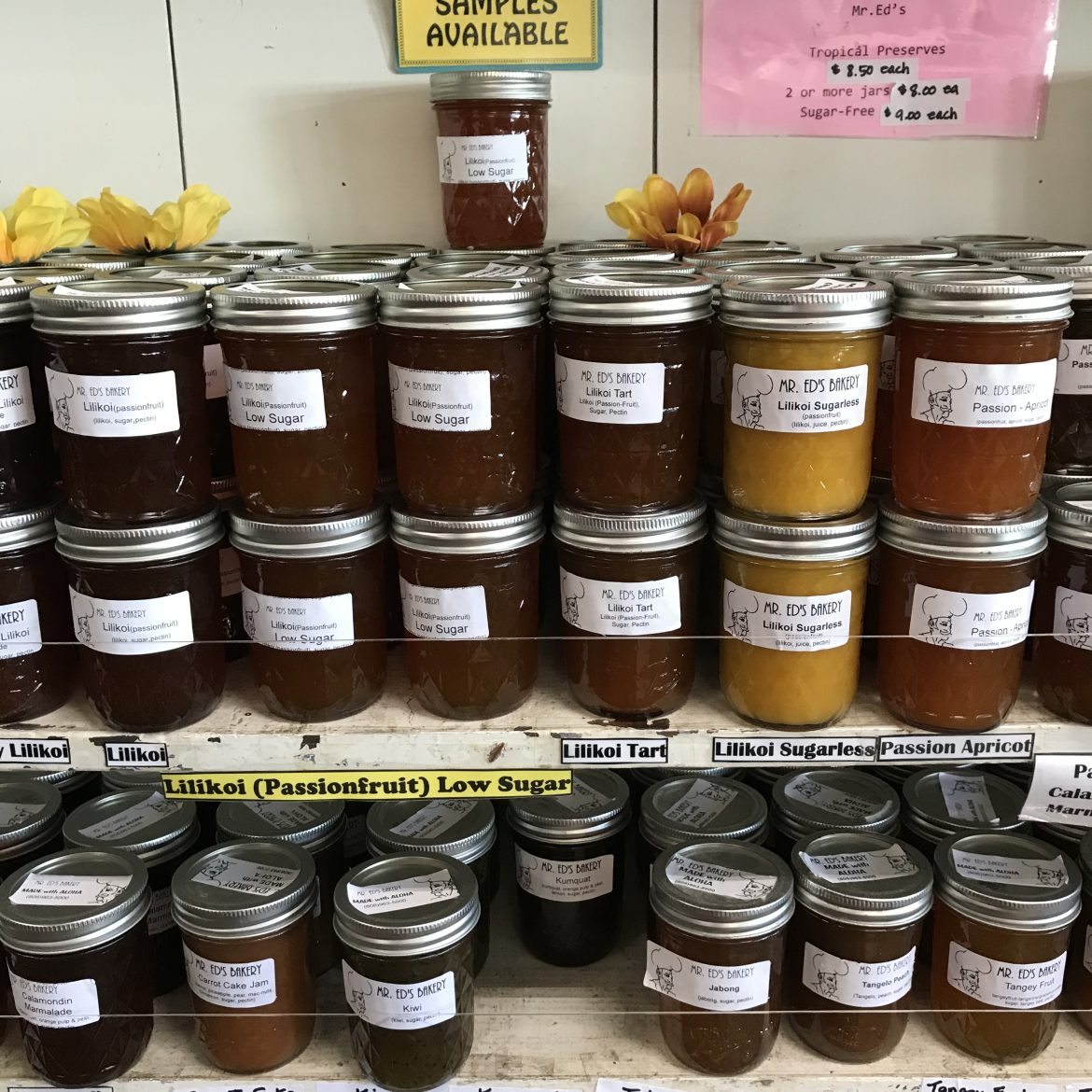 We saved the best for last: a tour and tasting at the Hamakua Chocolate Farm, a paradise of tropical plants and trees.
The tour goes rain or shine and while we got off to a great start in the cacao grove marveling at the strange and colorful cacao pods, a Biblical deluge began and we gave up at the treehouse where from a vantage point 65 feet in the air we could see the botanic collection of exotic fruit trees, flowers, and a rushing stream where the others on the tour continued.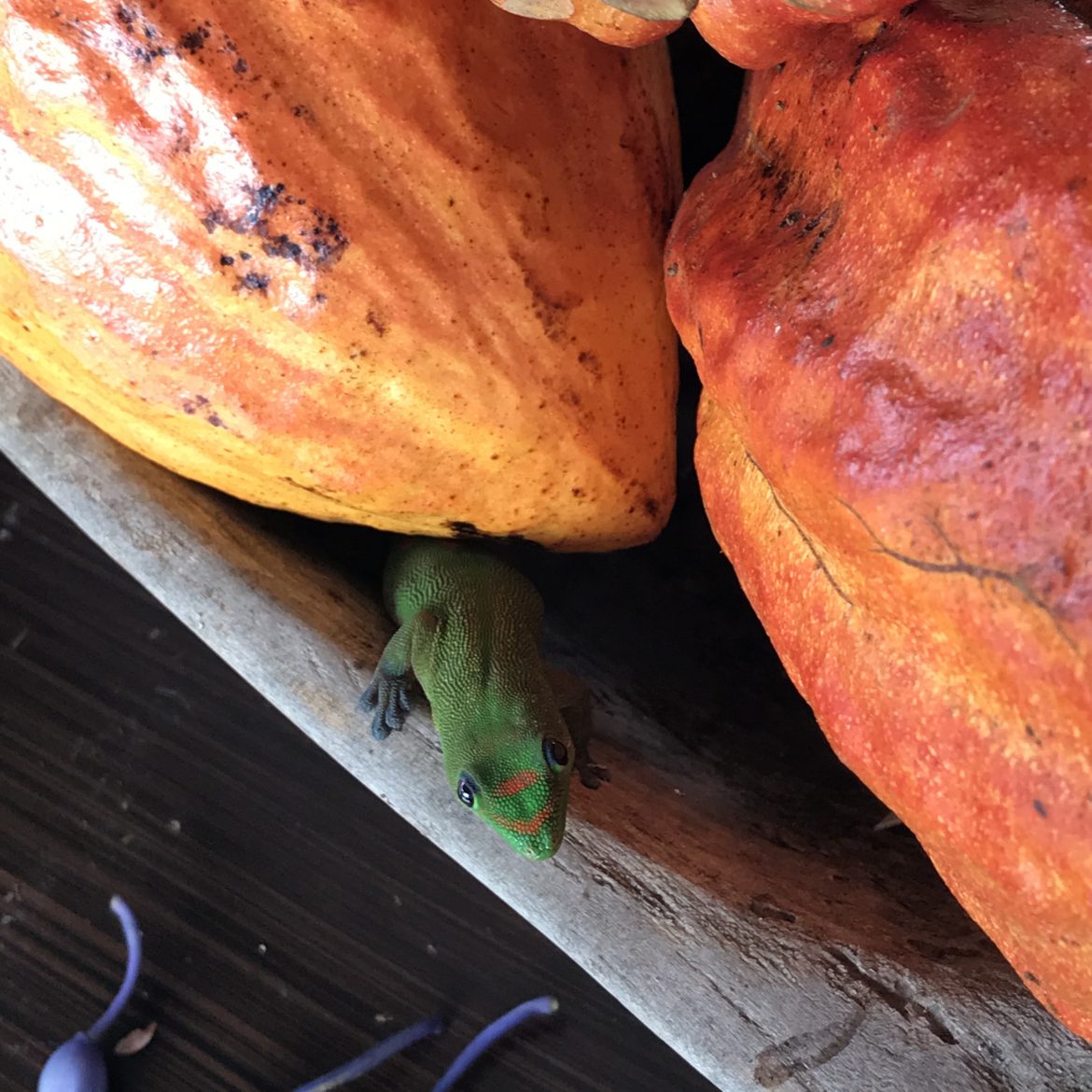 We waited under the covered patio for the them to return by watching a gecko play hide and seek in a bowl of cacao pods and displaying him or herself in contrast to the ethereal colors of the Blue Jade flowers on the table.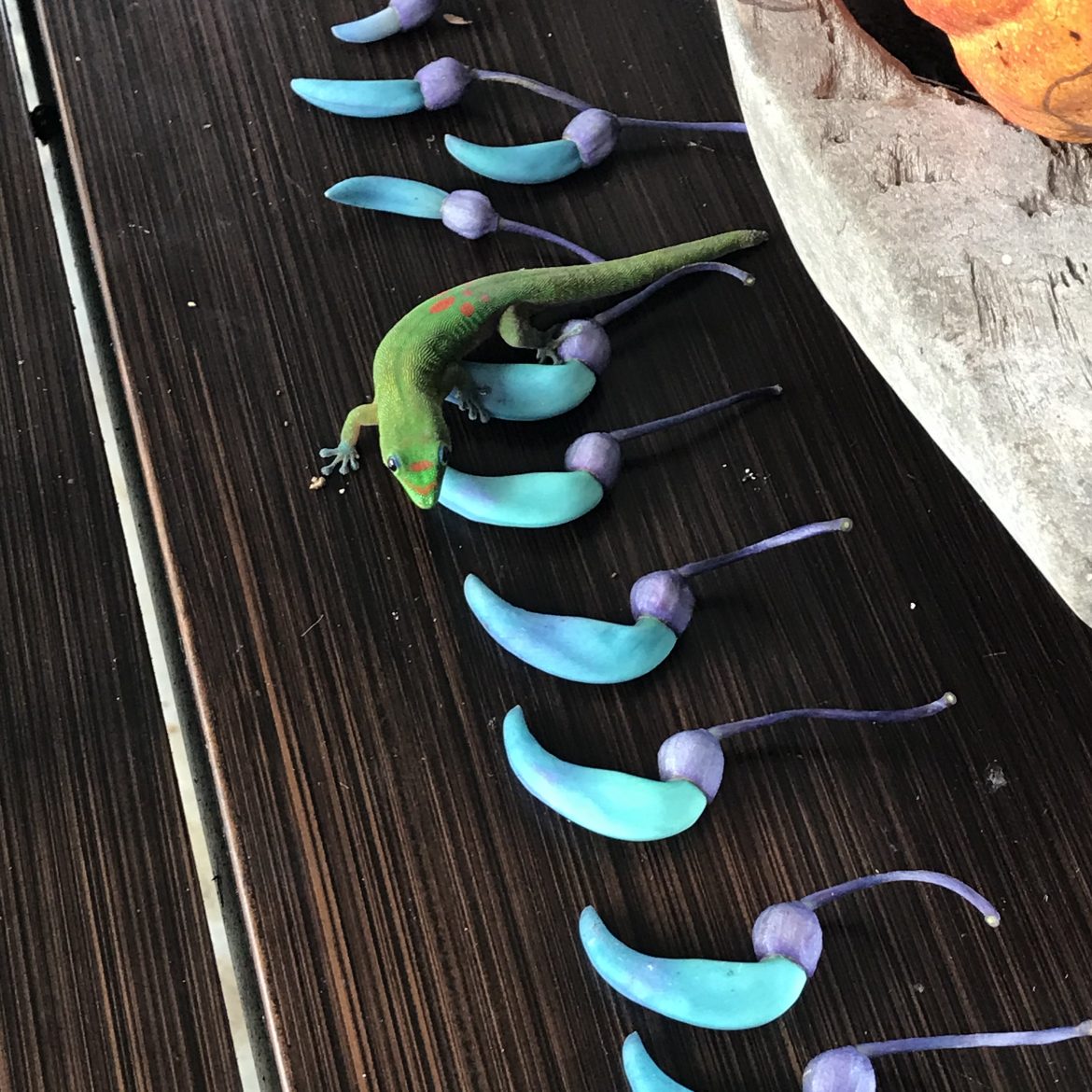 The others on the tour returned drenched but happy and we sat around the table to learn how chocolate is made from the cacao pods before a tasting of the intriguing varieties of chocolate bars handmade in the small batch production facilities. The problem was that we wanted all of them. We came away with a selection that included Black Pepper and Chai Spice which has cinnamon, ginger, clove, cardamom, nutmeg, and allspice from the farm; Hawaiian Hot Chile Pepper; and most interesting a couple of bars flavored with Li Hung Mui. Move over Belgian and Swiss chocolates!!!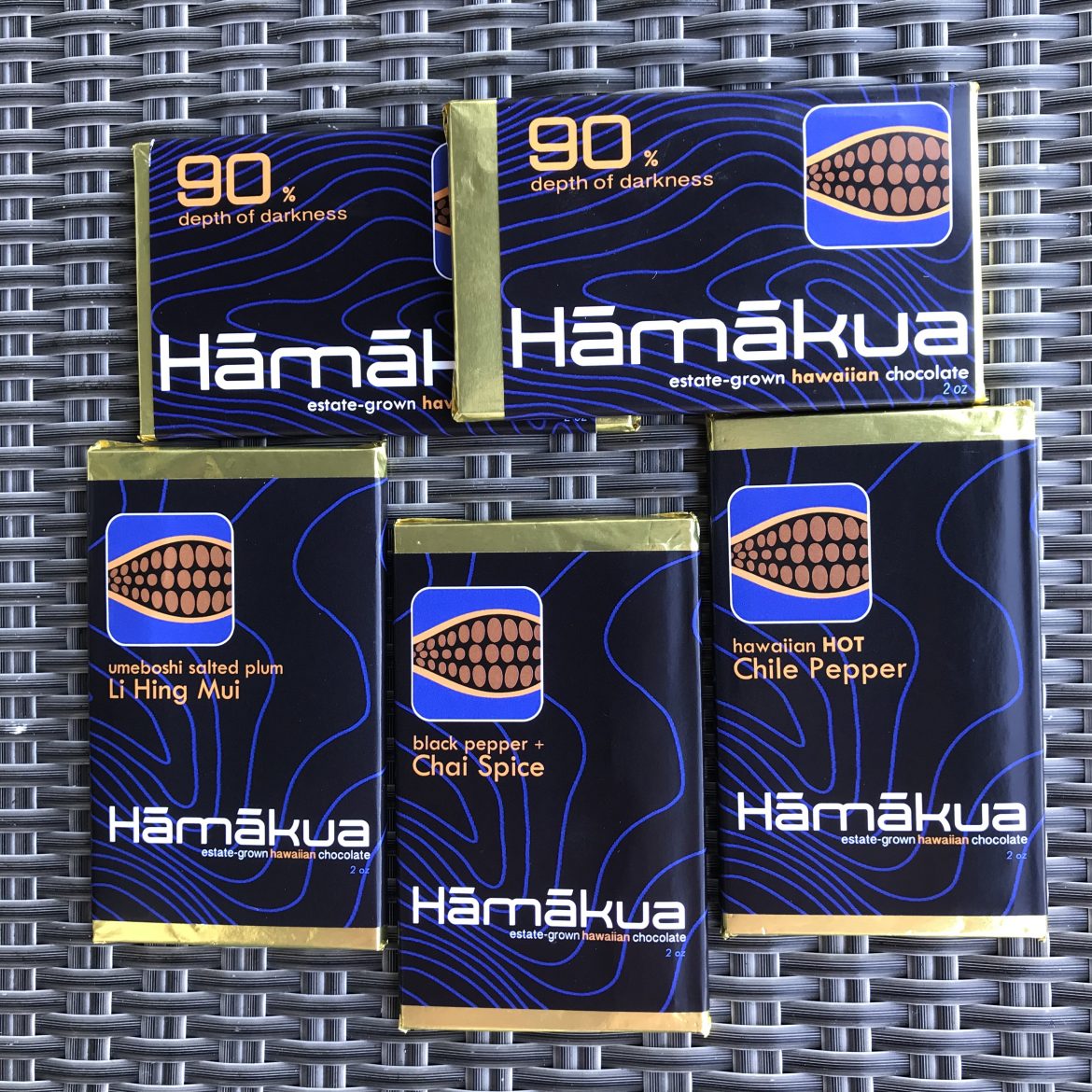 For those who have the time, the farm offers two luxurious vacation rental rooms with views of sunrise over the Pacific and of course a deep dive into chocolate production. If you can't get there you can enjoy photos of chocolate and tropical flowers by going to HamakuaDan on Instagram.
Too soon, it was time to move to our next destination, taking a drive around the top of the island to the dry side and the golf courses, condos, and hotels of blue-skied Waikoloa. And enjoy our chocolates.
If you are thinking of visiting the Hamakua Coast and tropical Hilo, here are several websites you might want to check out before you travel:
https://www.facebook.com/twoladieskitchenorginal
Aloha!